A Unique Organization
Breedlove is truly unique—it is a commercial-sized non-profit food processor committed to transforming lives by partnering globally to provide nutritious meals to the world's most vulnerable.
---
What We Do
Innovative Humanitarian Relief
Breedlove provides food for the world's hungry, from the United States to over 65 countries around the world.
Our foods are utilized in educational and medical institutions, nursing homes, in disaster relief operations, and abroad, where people are vulnerable to hunger.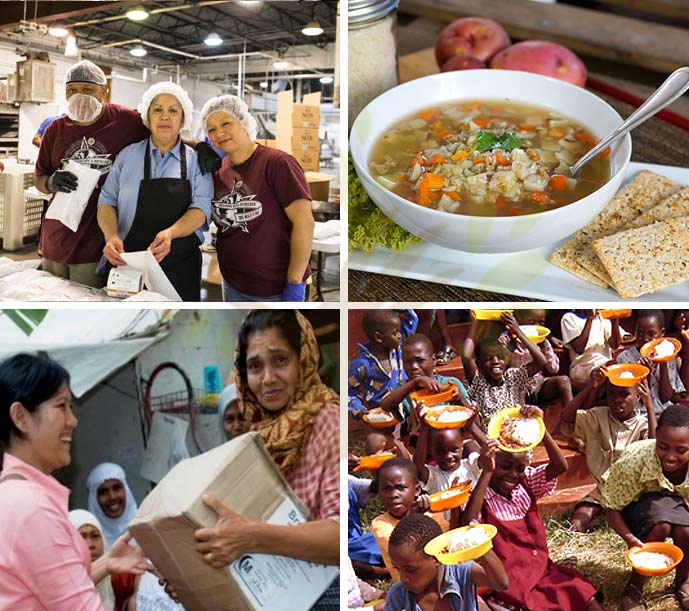 ---
Our Food
Excellent Nutrition
Our foods are nutritionally complete, offering great nutrition and taste.
Scalable to Purpose
We can package food for the needs of the individual to shipping millions of servings in multiple ocean containers.
Responsive to Need
We work with partners around the globe in their plans to help feed countless populations, and we can also respond promptly when entire regions are affected by disaster.
1983

The South Plains Food Bank (SPFB) opened.

1991

The SPFB received a donation of 29 acres of farm land (56th St. and MLK Jr. Blvd.) as site for Breedlove Food Processing plant – It was a former air training area that, founder, Mary Louise Breedlove Kingsbery's father had owned during World War II. – It was later developed as an apple orchard when an existing building and property were found for the dehydrated food project (Breedlove).

1992

H.A. and Barbara Sessions and J.T. and Margaret Talkington donated the Litton Industries building (48,000 square feet) and 42 acres of land at North Loop 289 and MLK Jr. Blvd to Breedlove. The plant was named after Aulyne and Clent Breedlove, parents of Mary Louise Breedlove Kingsbery; she and her husband, Bill, made the initial contribution, which was the catalyst for the project.

1993

On Oct. 15, Breedlove held a ribbon-cutting ceremony.

1994

Breedlove Dehydrated Foods' operations began.

1995

Is the year of Breedlove's Incorporation.

1996

Breedlove was declared by the Guinness Book of Records to be the largest dehydration plant in the world, specifically focusing on humanitarian aid.

1997

Breedlove was approached by a faith-based organization working to mitigate a severe food shortage in North Korea. Breedlove responded on an at-cost basis and provided 33 ocean containers with over 30 million servings of food.

1997

We changed our name from Breedlove Dehydrated Foods Inc. to Breedlove Foods Inc.

1999

Breedlove stopped dehydrating fruits and vegetables.

2001

Breedlove became the first nonprofit supplier to the USAID's International Food Relief Partnership program. A program that we helped establish.

2008

Breedlove officially became its own entity – separate from the SPFB.

2015

Breedlove officially stopped dehydrating potatoes and all other food, due to high operational costs.

2016

Breedlove celebrated in producing over 1.78 billion servings since its establishment in 1994.